Tough Hyster trucks help PPC Cement enhance efficiency and customer satisfaction
Friday 7 September, 2012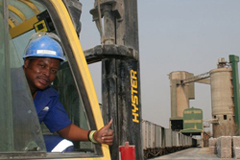 South African cement manufacturing plant, PPC Cement has improved operational efficiency and enhanced customer satisfaction levels, by using tough Hyster forklift trucks with specialist double pallet handling attachments. 

PPC Cement manufacturing plant in Dwaalboom, Limpopo Province, South Africa, loads an average of 2,600 bags or 130,000 kg of palletised dry cement per hour for customers throughout South Africa and in neighbouring countries. The operation is high-pressure, with a required truck loading turnaround time of just 30 minutes.
In order to keep up with the time sensitive and demanding operation, tough and dependable Hyster Fortens diesel forklifts were specified to operate three eight-hour shifts per day during the week and one shift per day over weekends. 

The Hyster Fortens 3.5 FT and 7.0 FT are designed to be highly productive even in harsh and demanding operating environments. The 7 tonne lift capacity machines are able to handle two 2-tonne pallets at a time, reducing the time required to load a 40-ton truck to approximately ten minutes and are also used to load trains transporting cement further afield. 
The reliable Hyster equipment is ideal for the time sensitive operation providing maximum productivity and minimum downtime. It is supported by a fleet management system and provided on a full service maintenance contract, including an on-site technician. Due to the site's remote location, standby machines have also been provided and forklift availability has increased to 99%. 
The fleet management system fitted to the Hyster fleet has helped to reduce turnaround time in the warehouse, raising customer satisfaction levels and has heightened the level of driver accountability, which also helps the drivers to be more efficient.
PPC Cement is one of the most modern and technologically advanced cement manufacturing plants in southern Africa, serving customers in South Africa and neighbouring countries.
For further information about the full range of Hyster equipment, visit 
www.hyster.eu
.